Dimension is a term used interchangeably , both in paranormal circles, but also within the established science.
Dimension is used in mathematics, chemistry, physics and cosmology. Especially in physics and cosmology, the workings of dimensions, are beyond comprehension.
But in short, we live in three dimensions: length, width and height. The time is often cited as the 4th dimension.
The modern cosmology does mention between 11-24 dimensions.
The field of cosmology theorizes, all these dimensions together make up a "domain". A domain cannot be exited, and it is not possible to cross over to another domain.
The term is also used, to describe strange phenomenon. ("It's a strange dimension"), etc. Some believe, ghosts and other phenomenon are part of another dimension. If so, they belong to the same domain as us.
Scientists have succeeded in creating new dimensions, namely research center CERN, which is located in Switzerland. It is possible to form new dimensions in an infinitely short period of time. These dimensions collapse fast, and so far there is no evidence that these pose a threat. Whether it is possible that someone or something can cross dimensions, is uncertain. As technology is today, man is not able to do so.
.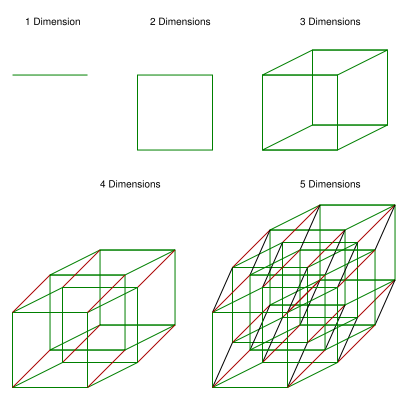 What happens, if you extend dimensions. But remember, these dimensions are only seen on a 2-dimensional screen!